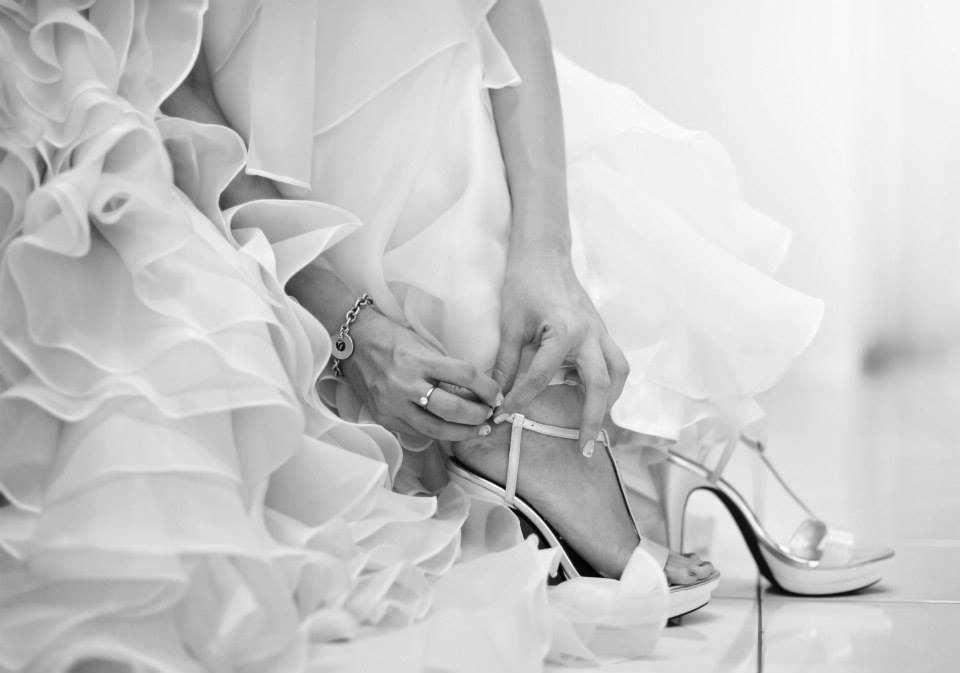 An incredible amount of energy goes into planning a wedding and it's easy to lose sight of what it's all about—you're making it official with the love of your life. Don't overlook the particulars of getting your brows groomed, your skin into shape, and your hair colored to the exact right shade. This timeline will help you schedule everything from bang trims to a perfect manicure for your special day.
3 Months Prior
Shape Your Brows 
Have your aesthetician settle on a shape and tint as far in advance as possible so you can figure out what you like best. For the most flattering and youthful effect, keep brows as full and as natural as possible, which may mean microblading, tinting, waxing, sugaring or tweezing.
1 Month Prior
Invest in a Keratin Treatment
If you have damaged or frizzy strands, book an in-salon keratin treatment one month before the wedding so your texture is under control but hair doesn't fall flat on the day.
Experiment with Eyelash Extensions
The semi-permanent glue used with lash extensions is water-proof so they won't rub off if you cry on your wedding day. Have the lashes attached a full month before your wedding to ensure your eyes don't have an adverse reaction. This will give you a chance to get the length and volume just right. Then, a few days before the event, have them touched up.
Practice Good Skin Maintenance

To boost your pre-ceremony glow, have a gentle exfoliation, like a light peel. Drink lots of water and get lots of sleep, exercise, and maintain a well-balanced diet. Wear extra sun protection, using a mild exfoliator, and apply a moisturizer regularly to your face and body.
3 Weeks Prior
Wake up Your Face

To mimic a good night's sleep in the home stretch booking a series of three facials — one for each week leading up to the wedding.
2 Weeks Prior
Evaluate Your Hair Needs 
Decide on how you want to wear your hair. If you are wearing your hair down or half up, you'll need to get it looking as healthy as possible—especially the ends. An in-salon deep conditioning treatment is recommended.
Fine-Tune Your Color

Perfecting your color, whether it's a root touch-up or subtle highlights, at this point is smart for two reasons: It gives the dye a chance to settle while still looking fresh, but doesn't leave enough time for your roots to start growing in. Decide what shade works best for you as far in advance as possible. Pick the color that makes you feel most like yourself.
1 Week Prior
Go for a Final Trim

Don't make a drastic change right before you get married. It's an emotional time, and too much change can tip the scale. Have your trusted stylist do a light trimming of the ends and bangs.
3 Days Prior
Time Your Waxing or sugaring carefully 
To ensure your skin is smooth but not irritated, get waxed or sugared no later than 72 hours before the wedding day. Have your aesthetician test your skin a few months ahead of time to see how skin reacts. To reduce redness or swelling immediately following hair removal, smooth on a calming cream.
2 Days Prior
Prep Your Hands and Feet

Between statement sandals and close-up shots of the wedding band exchange, feet and hands need to look picture perfect. Your best bet is to get a manicure and pedicure a couple of days earlier to ensure chip-free polish.
While gel polish' has staying power, which will last through the honeymoon, regular polish can also work—in case you need a last-minute touch-up.
The Big Day
Prime Your Skin 
For a last-minute boost on the morning of your wedding, apply a gentle exfoliating mask in the shower. Right before makeup, apply a hydrating serum onto your face and neck to enhance your glow before heading into hair and makeup. Then, remember to remain calm, breathe, and, most importantly, have fun!