Special Offers and Products
Mahogany Salon and Spa offers a wide selection of products and promotions designed to provide exceptional value. From the classic to trendy there is always something new and exciting happening at both our locations. Check in regularly as we often have special offers on both services and products.
"These are a few of our favourite things…"
Don't miss out on the best gift of the holiday season!
Our newest Beauty Box, 'Winter Wonder' is sure to warm your heart this holiday season. Stuffed full with our favourite essentials to glam up for a night out, or relax with a night in. Discover something new for yourself or give the best gift under the tree.
The most exciting part of the 'Winter Wonder' Beauty Box is that it's
ONLY $149 valued at over $350 worth of amazing products!
Hurry, these won't last long. Click here to purchase.
Our Holiday Gift Card special is back!
Until December 24th, 2021
A perfect gift for that special someone. Purchase a $125 Mahogany gift card and receive a $20 bonus coupon* to enjoy in the new year. *Some restrictions apply.
Our Annual Holiday Open House is around the corner! Don't miss it!
Saturday November 27th • 8am- 5pm
Celebrate with amazing savings, gifts with purchase, bonus coupons and much more at our Annual Holiday Open House. Call 613.492.3334 to pre-book a 30 minute socially distanced holiday shop in our boutiques! Pre-order your favourite products before November 27th and save 20%!

See the results. Get the Rewards.
Give yourself an early Christmas present. Get a 15% rebate on dermal fillers and neuromodulator treatments. On now until December 19th! To book your appointment contact Valerie at valerie@mahoganymac.com.

Introducing Mahogany Medical Aesthetic Clinic's new medical facial treatments!
Meet our dynamic Medical Aesthetic Clinic team and learn more about our new facial treatments! We are excited to introduce Beyond Microdermabrasion and Medical facial peels to our list of treatments. Read more about how beyond microdermabrasion can boost your skins metabolism here: https://www.mahoganysalonandspa.com/microdermabrasion/ and how medical facial peels can support healthy skin renewal here: https://www.mahoganysalonandspa.com/medical-facial-peels/
To book an appointment please email Valerie at valerie@mahoganymac.com.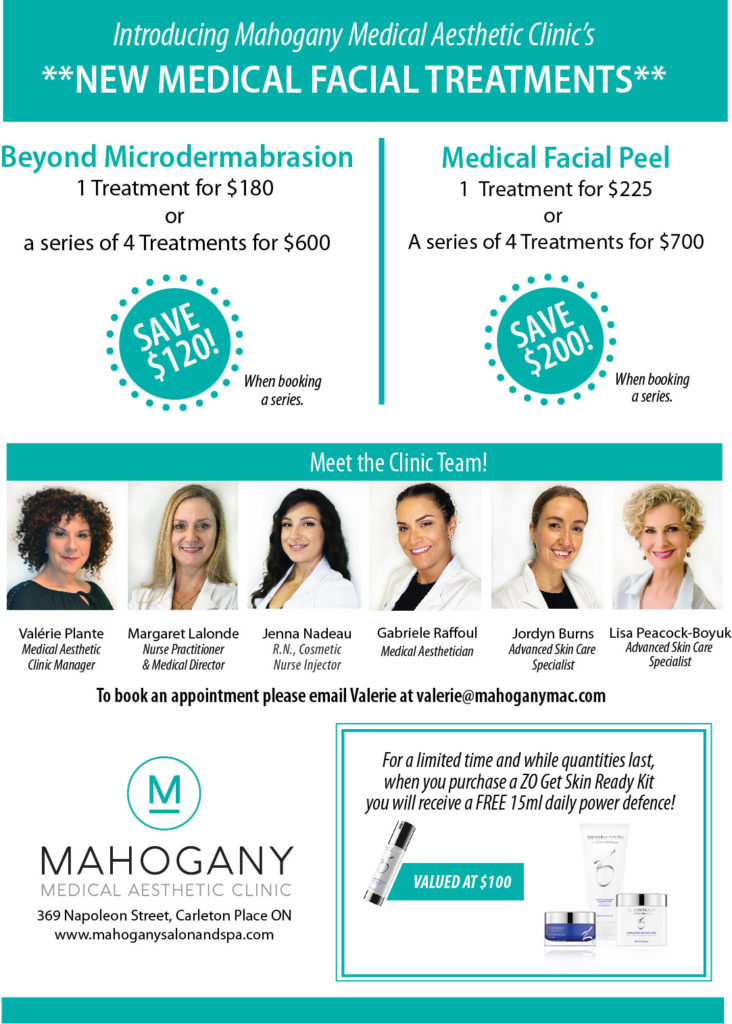 Pedicure of the Month
Our feature pedicure of the month for November is Chai Spice. This luxurious pedicure includes a milk bath, followed by an exfoliating foot scrub, finished with a soothing foot massage. Served with a rich Chai Latte. Only until November 30th!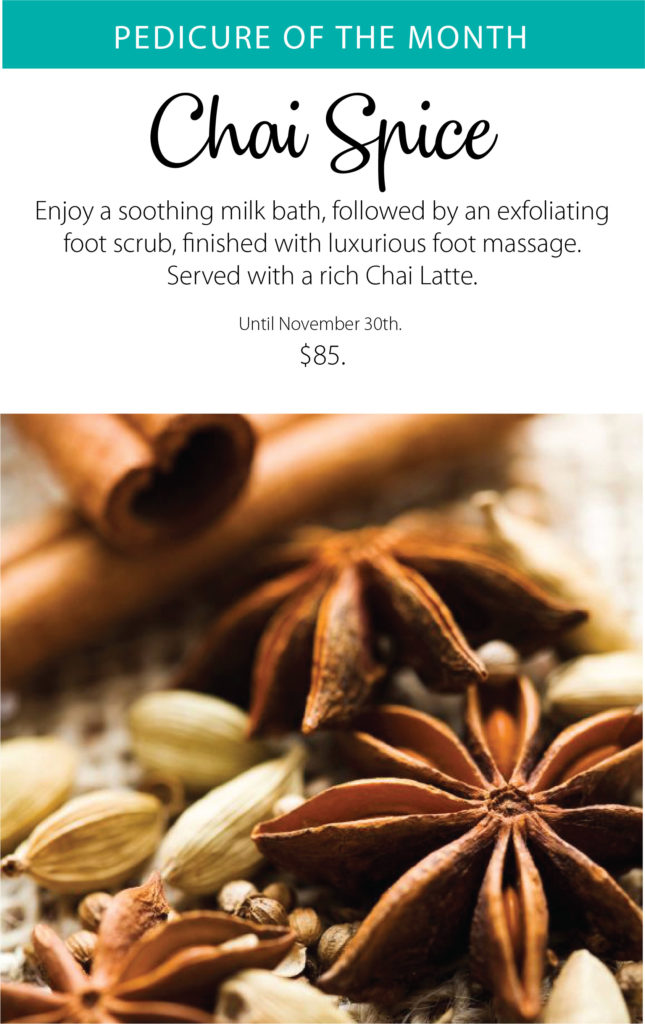 Take the experience of the spa home today!
Take some time for yourself, your face will thank you!
This facial kit includes everything you need. Enjoy a step by step G.M. Collin multimasking facial and guided meditation for only $59.00 with your very own G.M. Collin Elite master facialist. The QR code included in the kit links to the instructional video and guided meditation designed just for you.
* The first 25 kits sold will receive a bonus value of $20.00 which includes a G.M. Collin head wrap, a G.M. Collin reusable tote and a mini Jane Iredale Lipdrink.
Click here to purchase online or call 613.492.3334 or 613.836.3334 to order.
Curbside pickup at each location.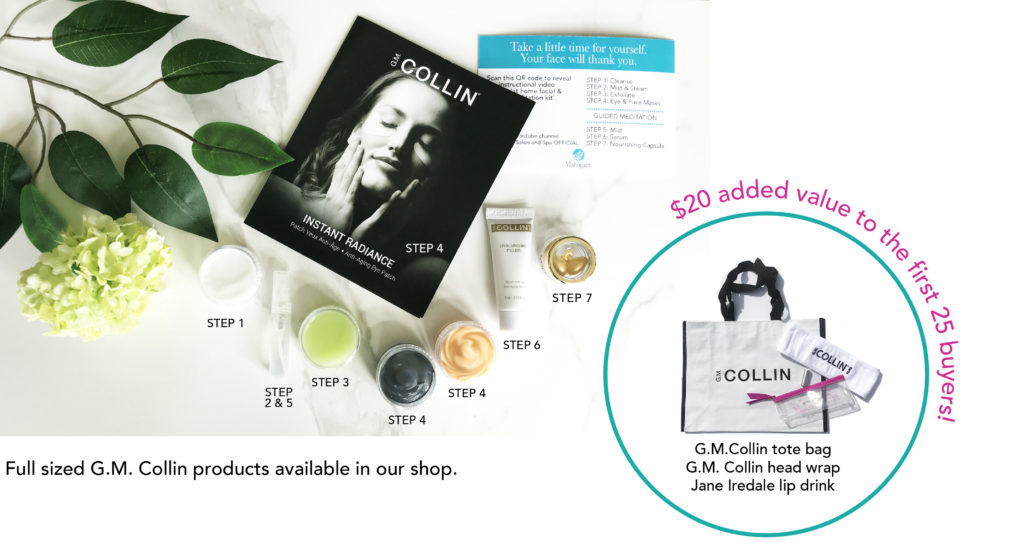 Mahogany G.M. Collin at home facial
To our Canadian Military Families…
Mahogany Salon and Spa honours all of our Military Families.
Receive 15% off all services (excluding Registered Massage Therapy and Medical Aesthetics services)
weekly from Monday to Thursday. May not be combined with any other promotion.
Give your lashes a lift…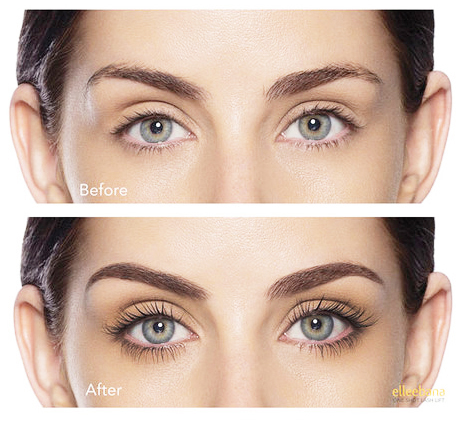 Introducing Elleebana Canada Lash Lift. This Lash Lift is a semi- permanent treatment that gives your natural lashes an illusion of perfectly curled lashes with added definition. It is a great alternative to eyelash extensions, requires very little maintenance and lasts 6-8 weeks! Call our guest service representatives for more information.